The United States Should Establish a Living Wage for Its Workers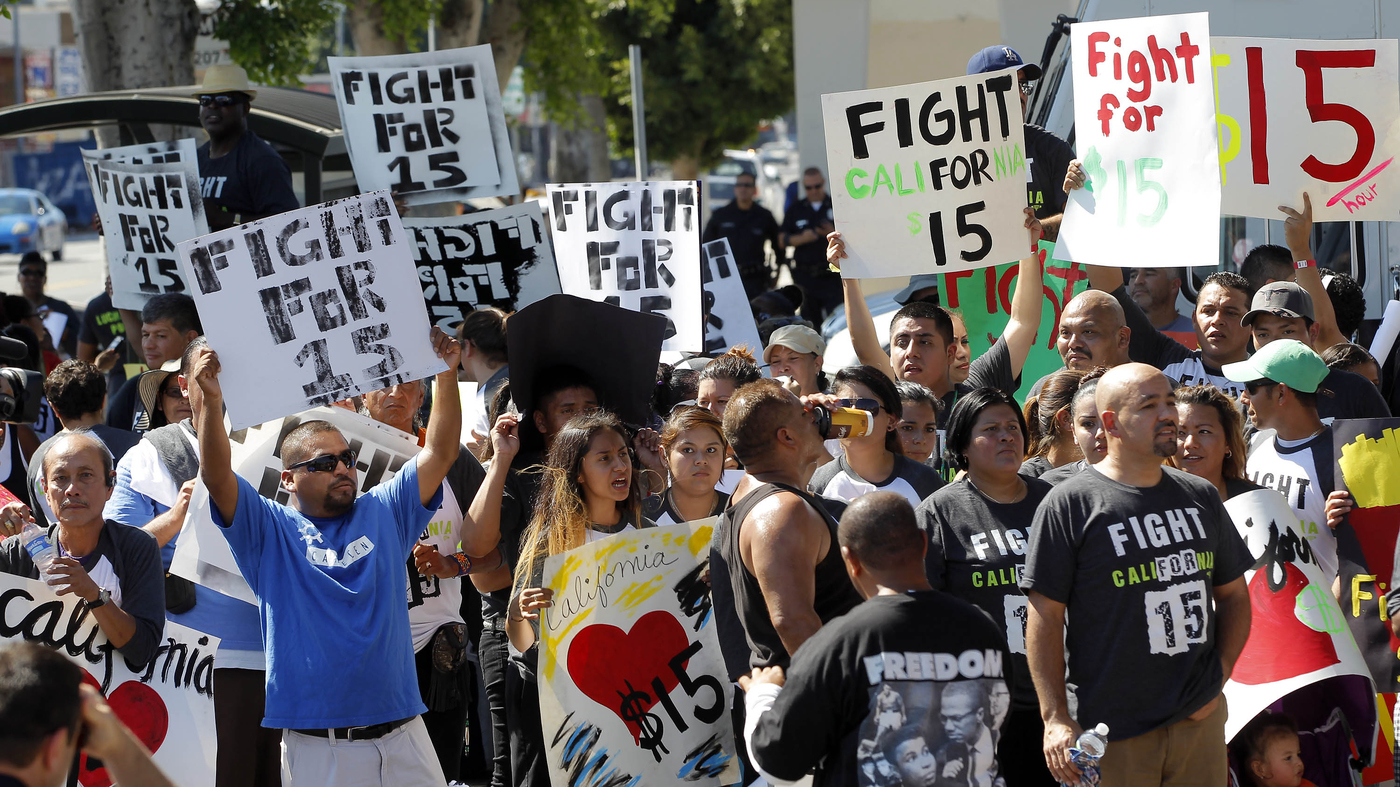 ---
PRO (4 arguments)
Grabbers:
1) The Economic Policy Institute found that the recent increases in minimum wage have reduced the effects of the recession.
2) New data shows that 46.2 million people in the U.S. lived below the poverty line — about $23,000 for a family of four per year, a historically high number. This number affects 16 MILLION children, judge. 16 million innocent children. Clearly, we need an effective way to reduce poverty in the United States and help all of these families get back on their feet. And living wage will do just that.
Definition:
Living wage: minimum income necessary for a worker to meet basic needs, based on family income and size. -Living wage=increase in minimum wage
1.

The earnings of minimum wage workers are crucial to their families' well-being.
Warrant:
The report, called How Living Wage Laws Affect Low-Wage Workers and Low-Income Families, examined actual experiences of cities with living wage laws and analyzed the effects of these policies on the workers they were intended to assist. Author David Neumark, a professor of economics at Michigan State University, looks at 36 cities with living wages across the nation and compared them to cities without living wage. The study estimated the effects of city living wage ordinances on the wages and hours of workers in cities that have adopted such legislation. It also looked at the effects of the ordinances on employment and poverty rates in these cities. Their findings indicate that living wage ordinances significantly boost wages of low-wage workers.
Sources:
Economic Policy Institute
2.

Minimum wage is good for economic recovery.
Warrant:
To get the economy back on track, spending power has to be in the hands of those who actually spend in the real economy. That means regular people, not the super-wealthy who tend to hoard wealth or invest in financial products. The minimum wage story is not just a story about income inequality, but rather it's about an elite that has hijacked the economic system and made it work less productively than before while redistributing more of what is working to themselves.
Impact:
Minimum wage increases put money in the pockets of low-wage workers who have little choice but to spend that money immediately in their local communities. Research has shown that raising the minimum wage boosts consumer spending, increasing the demand that drives economic growth.
A 2011 study by the Chicago Federal Reserve Bank finds that minimum wage increases raise incomes and increase consumer spending. The authors examine 23 years of household spending data and find that for every dollar increase for a minimum wage worker results in $2,800 in new consumer spending by his or her household over the following year.
When the federal minimum wage was first enacted in 1938 at the height of the Great Depression, its twin goals were maintaining a wage floor to keep workers out of poverty, and stimulating the consumer spending necessary for economic recovery. President Franklin Roosevelt called for its enactment as "an essential part of economic recovery," explaining that by increasing the purchasing power of those workers "who have the least of it today, the purchasing power of the Nation as a whole – can be still further increased, (and) other happy results will flow from such an increase."
Sources:
Chicago Federal Reserve Bank, Economic Policy Institute
3.

Living wage increases employment.
Warrant:
A study done by Mark Brenner in 2005 of the Boston living wage found little evidence of job losses, if any at all. Contractors who were forced to raise wages because of the law saw increased employment and job growth.Affected firms added 42.1 full-time positions, while unaffected firms added 22.4. Also, the number of contract employees covered by the Boston ordinance increased more at firms that were forced to raise wages than those who did not have to. Brenner concluded that while approximately 1,000 workers received wage gains, there was no evidence of reduced employment or hours, rather the employment increased. This is sourced from the Political Economy Research Institute article, "The Economic Impact of Living Wage Ordinances."
A study done by Candace Howes in San Francisco also does not support claims of job loss. Over the four years of her study from 1997-2002, the number of home-care workers actually INCREASED by 54% after the living wage was implemented. This is sourced from New York Times article, "Study Finds Living Wage to Increase Employment."
Sources:
Political Economy Research Institute article, "The Economic Impact of Living Wage Ordinances," New York Times article, "Study Finds Living Wage to Increase Employment."
4.

Living wage creates a constant and never-ending cycle of tax relief, which continuously results in decreasing poverty.
Warrant:
A person making a living wage is not using as many public services as someone on unemployment, according to economics expert Professor Brock Haussamen. An unemployed worker is given welfare, rent assistance and food stamps in many states. With living wage, the need for public assistance is lowered and this reduces the tax burden on the community and the state. Judge, if, with living wage, people have jobs, they are not on welfare. The less people on welfare, the less taxes for everybody. Welfare benefits are funded by taxes on the people. The more people going out there and working, even for minimum wage jobs, the less taxes it means for everyone else. And if more people have jobs, they are paying taxes, and even MORE people can benefit from welfare. This is sourced from the Wall Street Journal.
Sources:
Wall Street Journal